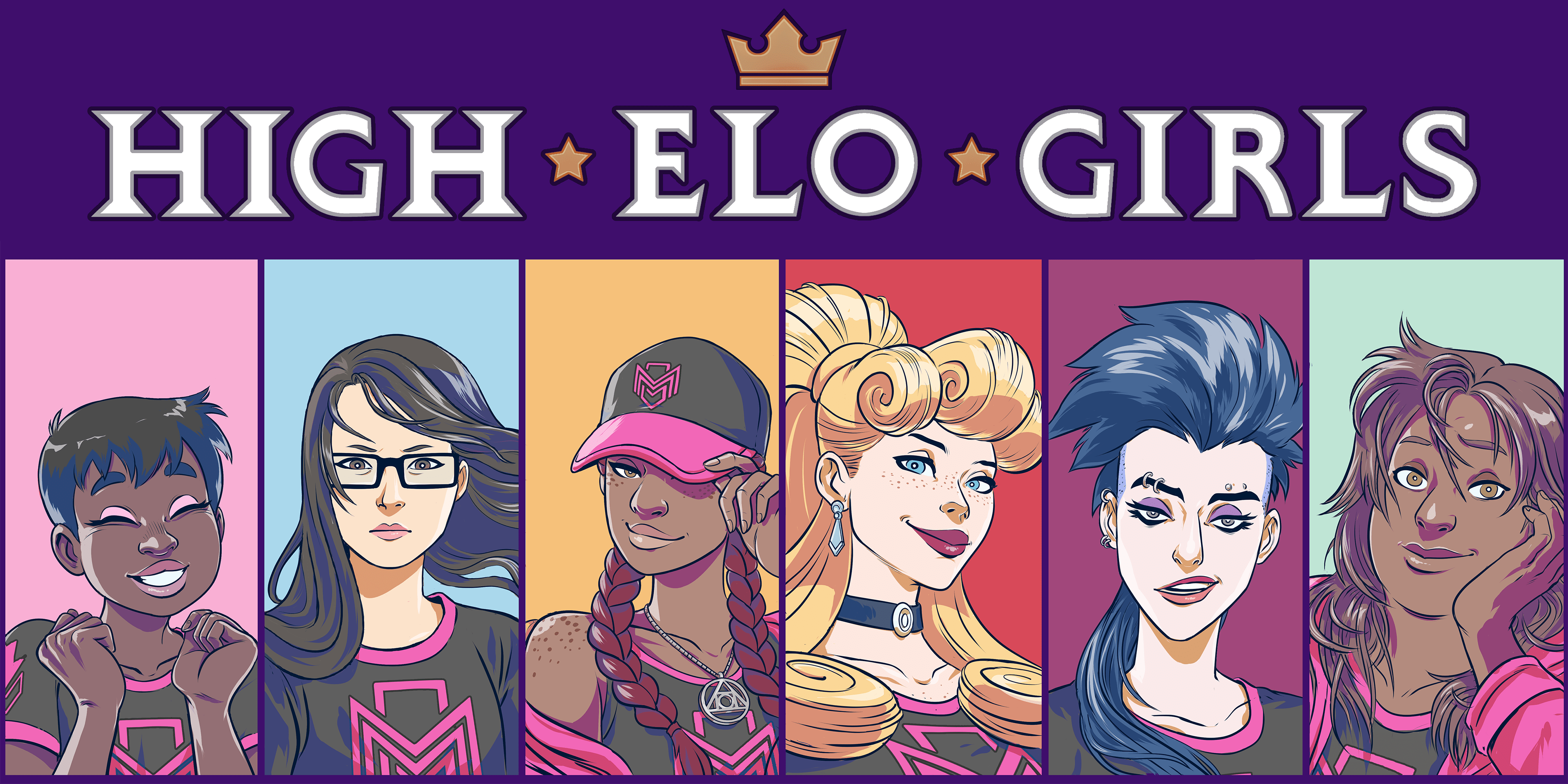 High Elo Girls
A downloadable game for Windows, macOS, and Linux
Navigate competition from all directions to become starter for your new esports team!

STORY
Play as Rafaela*, a Black queer first-gen college dropout turned substitute for Momentum Gaming (MMG), an ambitious team of five amateur players competing for a coveted spot in a closed esports league. Become an MMG starter by navigating fraught relationships with your new team members, or take a backseat to their ambitions.
Will you find purpose in friendship or victory?
* Name can be changed by the player.
FEATURING:
5 MMG Team Roles to Play (Top, Jungle, Mid, DPS, and Support)
5 MMG Teammates to Befriend, Romance, or Antagonize
In-game simulations featuring crucial narrative-changing choices
A newcomer-friendly tour of the MOBA esports scene
CAST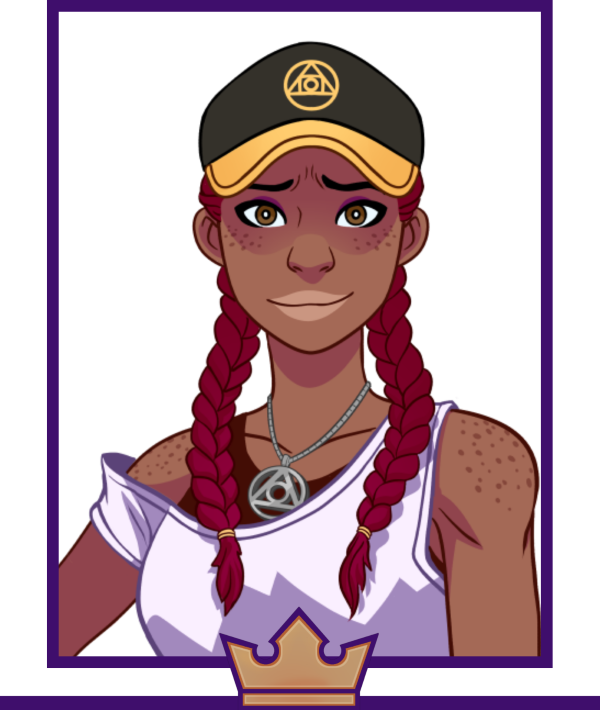 RAFAELA
The aforementioned college dropout with little regard for much outside of her demon kitty, Cruella, her mom's homemade sweet potato pie, her soothing lava lamp collection, and climbing the Reckoners of Forsaken Lands (ROFL) ranked ladder. Once a flourishing chemistry student until a mental health crisis forced her to leave, she spent most of her days theorycrafting ROFL builds until MMG recruited her for tryouts.
TEAM NAME: Player's choice
TEAM POSITION: Route-specific
RECKONER NAME: Player's choice


TOYA
Internet famous cosplayer and MMG Top Laner with an infectious giggle and capacity for easing the tension in a room with her bubbly presence. She likes cute things, dance routines, and devising new makeup looks at all hours of the day. She is also a gunpla enthusiast and woodworker, and banishes any Bad Feels she has by building sparkling new variations of known buster swords.
TEAM NAME: MMG Gateau
TEAM POSITION: Top Lane
RECKONER NAME: gateauchan owo


GRACE
MMG COO, shotcaller and Jungler with an undeniable air of professionalism and a penchant for wrangling complexities behind the scenes. Though she keeps her cards close to her chest, she is not unkind or unfair, and cares for team health. A self-described "very busy woman," she has little patience for small talk but can be found enjoying a comedy special on Netflix or two during her downtime.
TEAM NAME: MMG Farewell
TEAM POSITION: Jungle
RECKONER NAME: Farewellian

DAPHNE
Internet famous pro-streamer and MMG Mid Laner, known primarily by her wildly popular persona, Vermillion. Is said to have an infuriatingly seductive voice and a forgiving hand when managing her most colorfully offensive fans, called 'vermin' by the League community. Her level-headed approach to life makes her appear perfect in mind, body, and soul, which means she is often accused of being manufactured and inauthentic. Naturally, none of this seems to bother her.
TEAM NAME: MMG Vermillion
TEAM POSITION: Mid Lane
RECKONER NAME: xo verMillion


KAE
Certified loose canon and MMG DPS, known for her toxicity and inconsistency in equal parts. Loud, brash, and often rude, she is known to be a "50/50" case in that she seems incapable of backing up her enormous ego more than fifty percent of the time. The epitome of a "Get off my f***ing farm" carry player, she is known for grinding back to the top after achieving her Nth ban of the season. Though loathed by many, she's nevertheless well-respected for her balanced and helpful tutorial videos.
TEAM NAME: MMG Ballistic
TEAM POSITION: Bot Lane (DPS)
RECKONER NAME: get sheet on


SENESCHAL
MMG's Support, also known as That One Friend Who Gives The Greatest Hugs Of All Time. As the eldest teammate and married titi of one beloved niece, they are frank with both their praise and criticism and will go out of their way to schedule time for you when you need them. They'll also never be found wasting what precious extra time they do have to spare as they commute back and forth between the MMG team house and their own home. Of all teammates, they are easily the best at communication.
TEAM NAME: MMG Portal
TEAM POSITION: Bot Lane (Support)
RECKONER NAME: Supportalcube


DEV NOTES
High Elo Girls began life as a League of Legends fan visual novel. As of April 2021, we are taking steps to convert our passion project into a diverse esports visual novel based around our own fictional MOBA, Reckoners of Forsaken Lands (ROFL).
Our redesigned demo will contain a preview of all routes available in the full game. Thank you so much to everyone who took interest in HEG as a League of Legends fan, and we hope you'll stick around to enjoy this story in its newest incarnation!

ALL GAME ROUTES:

🎀 Toya "Gateau" Thompson (🔜)
🛡️ Seneschal "Portal" Sotomayor (🔜)
💣 Kae "Ballistic" Moeller (🔜)
💋 Daphne "Vermillion" Russo (🔜)
💼 Grace "Farewell" Park (🔜)
CREDITS
All music and sound effects courtesy Envato Elements. Thanks to xavimat on the Lemmasoft Forums for bespoke code used to power the messenger systems. We'll reserve all of our mushy thank yous for the Credits section of our final demo.
WHERE TO FIND US
| | |
| --- | --- |
| Status | In development |
| Platforms | Windows, macOS, Linux |
| Rating | |
| Author | Split Fate Studios |
| Genre | Visual Novel |
| Tags | english-visual-novel, esports, hegvn, high-elo-girls, league-of-legends, LGBT, visual-novels, vn, wlw |
Download
This game is currently unavailable
Comments
Log in with itch.io to leave a comment.
Can I ask why there's no demo available for this?
Hi there! Thank you so much for your interest! We previously had a demo available for High Elo Girls while it was still a League of Legends themed fangame, however when we made the decision to revise the game as a wholly original property we pulled that original demo to avoid confusion! We're hoping to have a new demo available in time for Steam's June Next Fest!
Uh... Daphne and Kae's bios are identical. I assume that's an error :P
Oh man, that would absolutely be my fault (Dee speaking!) Thank you for the catch! I've just gone ahead and updated Daphne's to the proper bio.