High Elo Girls
DEVLOG #2 | 1 of 5 Demo Routes Released!
---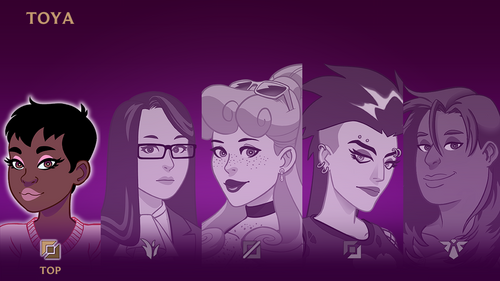 Hiya!
Over the weekend we quietly released the 1st of #HEGVN's 5 Demo Routes.
This first route features none other than MMG's starting Toplaner, resident pro cosplayer and UwU lover:
Toya "Gateau" Thompson! (🎀)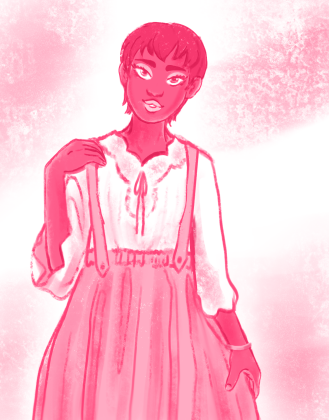 (Toya courtesy of the wonderfully talented Mallory Johnson!)
WOOO! 🎉
If you follow our official twitter (@HighEloGirls!) you may be aware of our decision to release each Demo Route one at a time. Given the demo plays like a self-contained game of its own, we've decided to stagger releases leading up to a final Full Demo containing all 5 routes this fall. (For the curious, testers have reported an average playtime of about an hour and a half per route without skipping through already seen text!)
Each New Demo Build Will Contain:

The Latest Demo Route
Any/All Previously Released Demo Routes
All Individual Demo Routes Feature:

1 MMG Teammate to establish a rapport with (or not!)
1 MMG Team Role to try out for (Top Lane, Jungle, Mid Lane, AD Carry, and Support)
4 League of Legends simulations
3 Crucial choices per League of Legends simulation
6 Bad Endings
1 Good Ending
Designing the League of Legends simulations has been a totally wild experience and a ton of fun. We're especially interested in how they play for newbies and veteran League players alike.

We hope you enjoy what we've put together for Toya's route, and are greatly looking forward to your feedback! Oh, and if you experience any issues downloading the game, please reach out to us on Twitter!
Thanks for reading and playing,
Dee, 1/2 of Split Fate Studios
Files
LNX | HIGH ELO GIRLS DEMO | 1 OF 5 | TOP LANE | Meet Toya "Gateau" Thompson
334 MB
Sep 14, 2020
MAC | HIGH ELO GIRLS DEMO | 1 OF 5 | TOP LANE | Meet Toya "Gateau" Thompson
335 MB
Sep 14, 2020
WIN | HIGH ELO GIRLS DEMO | 1 OF 5 | TOP LANE | Meet Toya "Gateau" Thompson
351 MB
Sep 14, 2020